The MuleSoft Go To Market (GTM) Champions program is designed for trusted MuleSoft partner team members to leverage reusable assets, IP, and accelerators to deliver value to the clients. A MuleSoft Champion can utilize the rich experience and knowledge of MuleSoft's cross-functional teams to design a go-to-market strategy to drive digital transformation for various industries.
MuleSoft GTM Champions will help customers across several industries identify ways to overcome business challenges using MuleSoft
What is a MuleSoft GTM Champion?
MuleSoft partners come with decades of experience as trusted advisors to their clients and flexible capacity to meet changing demand, bringing a wealth of insight across the technology and business landscape. GTM Champions work closely with a cross-functional team to develop a joint go-to-market strategy. GTM Champions spend between six weeks to three months establishing this joint approach to help clients on their transformation journey.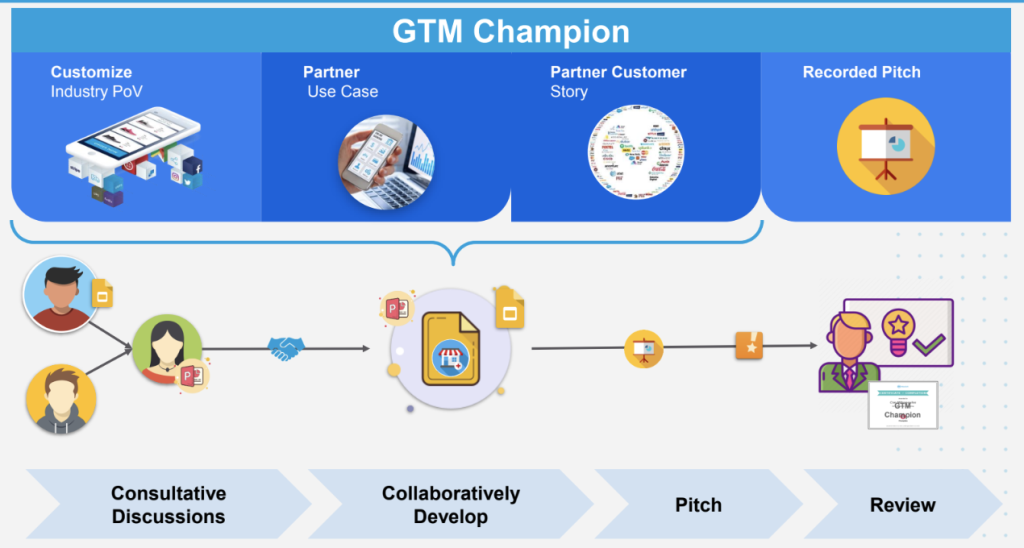 Audience To Take this Exam
? Customers and Partners (Pre Sales teams, Delivery teams, GTM teams)
Prerequisite
You should complete at-least one Industry champion Program (Telco, Banking, Finance, Public sector, Manufacturing or Health) for better understanding of GTM Champion Program – Refer this Article
About MuleSoft GTM Champion Program
? Program has total 5 Modules
? GTM Champion Overview – Overview and outcomes of GTM Champion Program
? GTM Preparation and Support Checklist
? Your role as a GTM Champion
? Go to Market Champion – Submit your Pitch deck to the reviewers – submission will be evaluated on different parameters (Articulating the challenge, business initiative, Use case, customer story, Why MuleSoft..etc), Recorded Presentation should be between 15-20 mins Max
? GTM Champion logo and acceptance usage policy
How to Register?
Step: 1 Reach out to your Partner Account manager for your interest in your participation of this program
Step: 2 Selected participants receives an email from Parter Account team to sign-up on Mindtickle
Additional Resources
5 things you need to know about MuleSoft GTM Champions