Data – a most precious and significant aspect behind the success of a business. Every day new users account with the different applications that consume and create vast amounts of data. Global data creation is projected to grow by more than 180 zettabytes in the next 2 years (2025). Now, you need an advanced system that can manage, hold, and bring real magic to your business with such consumed information. Here you need Salesforce Data Cloud – the best way to meet your customers in the way they like most. Let's make it more clear and real for you with a scenario.
Scenario – "You are browsing through a personalized offer on a website that changes suddenly and becomes more relevant for you & convinces you to make a purchase. Say Thanks to Data Cloud as it makes an offer more relevant as per the user needs and demand."
Why does your business need Data Cloud – a big question to ask?
Data-driven teams make meaningful customer relationships & data is the backbone of a business. Across the industries are using real-time data for a personalized offer and experience. The user decision changes within a second & it makes a substantial difference in consumer experience. That's why 56% of leaders are increasing their budget in coming years. So, here you need to know why businesses require Salesforce Data Cloud: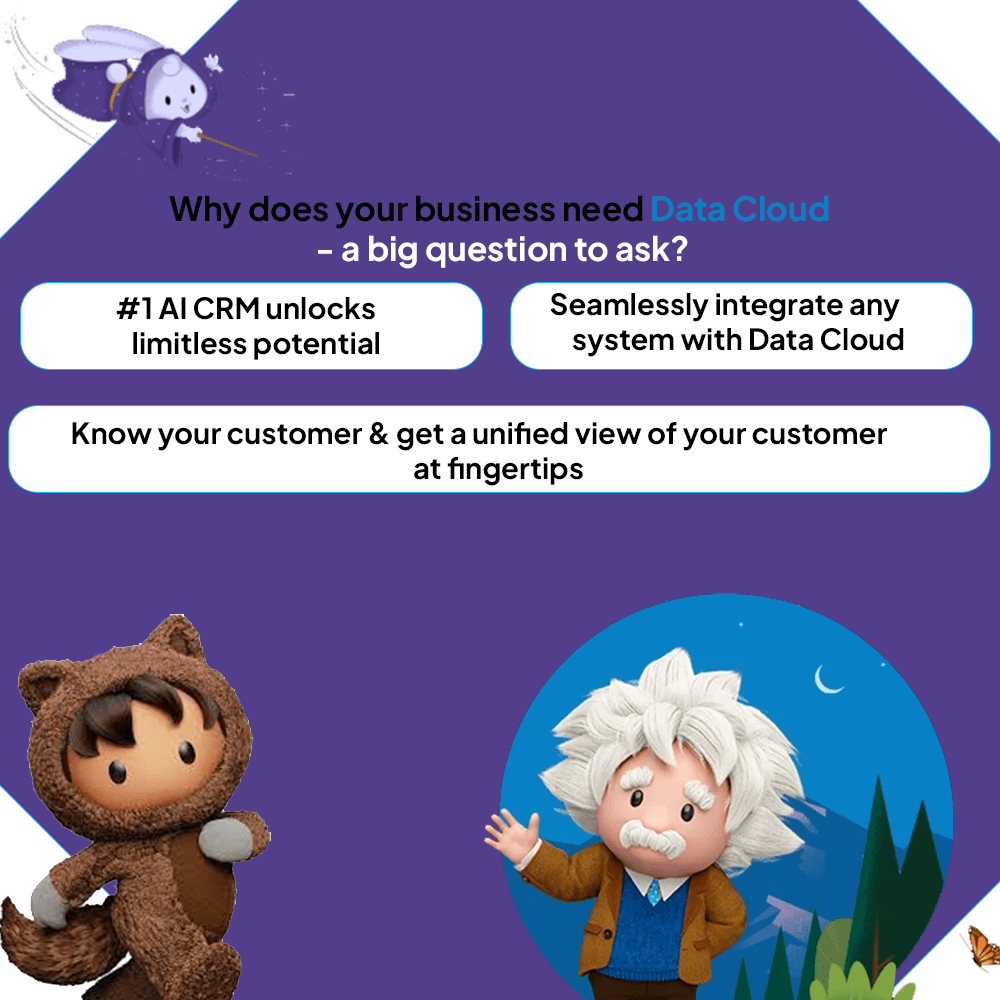 Backed up your teams with the most trusted platform, powered by AI.
Is this a customer data platform (CDP) or a Salesforce data cloud?
The CDP is now upgraded to the Salesforce data cloud and unifies all customer data into a single, real-time view. You can get a complete picture of your customers across all their touchpoints and use that data to deliver personalized experiences that drive growth. Industries are integrating the Salesforce data cloud with the other Salesforce products and power up your sales, marketing, and service operations. Here are some examples of how businesses are using Salesforce Data Cloud to achieve success:
A retail company is using Data Cloud to personalize its product recommendations for each customer. This has resulted in a 10% increase in sales.
A bank is using Data Cloud to identify and target customers who are at risk of churning. This has helped the bank to reduce churn by 5%.
A software company is using Data Cloud to automate its lead nurturing process. This has resulted in a 20% increase in qualified leads.
Salesforce Data Cloud – a new way of interaction
Salesforce Data Cloud is a real-time customer data platform that collects and unifies data in milliseconds, enabling brands to act instantly. This means that brands can provide personalized experiences to customers based on their current needs and preferences, rather than their past interactions.
Data Cloud also enables all teams within a company to adapt to their customer experiences in real time. This is a significant advantage over other customer data platforms, which typically focus only on marketing and/or commerce.
Real-time, connected data is the key to providing magical customer experiences. Data Cloud is the first product to provide this level of data to businesses, giving them a unique advantage in the marketplace.
Here are some specific examples of how Data Cloud can be used to improve customer experiences:
A sales representative can see what products a customer is viewing on a website in real-time and then offer them a personalized discount or recommendation.
A customer service representative can see a customer's past interactions with the company, including their purchase history and support tickets. This allows them to provide more efficient and effective service.
A marketing team can send targeted email campaigns to customers based on their interests and behaviors. This helps to ensure that customers are only receiving relevant and timely messages.
Salesforce Data Cloud is a powerful tool that can help businesses improve their customer experiences, increase sales, and reduce costs.