The recently launched MuleSoft Champions program is a way to develop and recognize capabilities of business leaders on broad industry trends across our partner and customer ecosystem. This program ensures developers and architects are leveraging reusable assets, IP, and accelerators to deliver value quickly. A MuleSoft Champion is an individual who successfully completes one of the program courses described below and passes the final assessment.
What is a MuleSoft Champion?
MuleSoft Champions are customers and partners in our ecosystem that we recognize for investing in their capabilities that help make our customers successful via enablement and assessment. Several field teams are investing in this program to support our thriving community. Our new MuleSoft Champions get unparalleled access to internal knowledge, experience, and IP from MuleSoft's cross-functional teams to drive digital transformations across industry and horizontal challenges.
Becoming a MuleSoft Champion is a combination of enablement, experience, and assessment. On completion of each course an assessment it completed. Each assessment is created by subject matter experts to ensure a high degree of expertise and internalization of the topics, with demonstrable skills. This assessment could be a combination of an online quiz, presentation, or face to face interview based on the type of capability. We proudly call those who successfully pass the assessment MuleSoft Champions.
Course completion documents appear as follows, where the name of the MuleSoft Champion course will appear such as: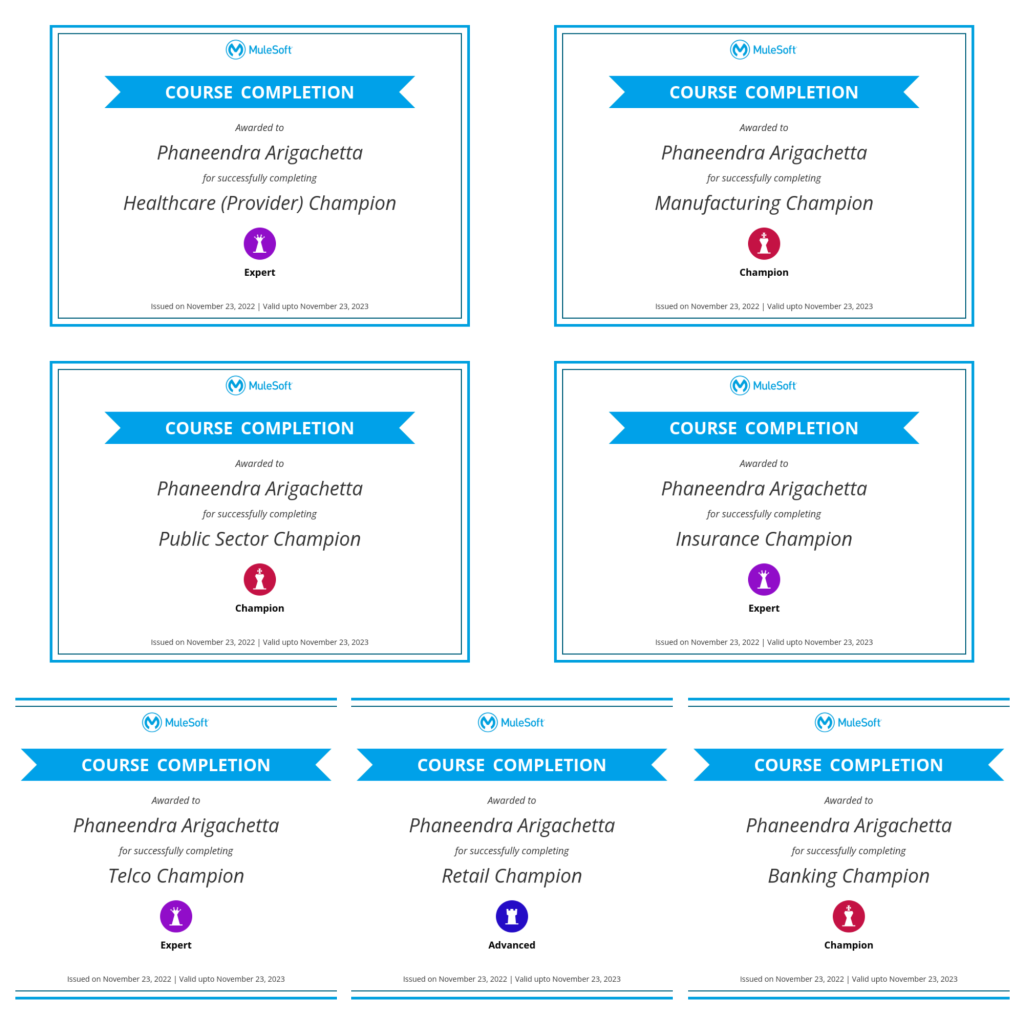 Audience To Take this Exam
? Customers and Partners (Pre Sales teams, Delivery teams, GTM teams)
About MuleSoft Industry Champion Program
? Online Self Paced 45 Minute Session
? Consists of Industry POV (Point of view), Industry use cases, Customer references & Quiz to test your skills on understanding of the course
? At the end of the course, you will receive a certification based on your marks scored (Advanced, Expert and Champion)
? Minimum 800 Points required to get the certificate of each industry course, 800 Points – Advanced, 900- Expert, 1000 – Champion
How to Register?
? Step: 1 Reach out to your Partner Account manager for your interest in your participation of this program
? Step: 2 Selected participants receives an email from Parter Account team to sign-up on Mindtickle
Additional Resources
5 things you need to know about MuleSoft Champions