Marketing Cloud Einstein Send Time Optimization (STO) determines the best time to send a message. Using machine learning, Einstein predicts optimal send times so that the message is likely to be opened.
Einstein Send Time Optimization helps marketers increase email and push notification engagement. Using automated analysis, Einstein determines the best time to send a message to each individual contact. Each week, Einstein uses each contact's latest engagement data for sends with the Commercial send classification to recreate its sending model with that data. Email sends with the Transactional send classification are not used for modeling.
The Einstein STO Journey Builder activity sends messages to each contact at the time when that contact is most likely to open the message. When Einstein doesn't have enough data to create a model for a contact, the contact receives messages according to a generalized model. The generalized model is derived from sending data in your Enterprise. The Einstein Send Time Optimization dashboard displays analytics that predict future message engagement.
To use this activity, activate Einstein Send Time Optimization for your business unit.
NOTE: Einstein Send Time Optimization is included with Corporate and Enterprise Edition or available as an add-on purchase to Pro Edition. Einstein Send Time Optimization is also available as an add-on to customers with Pro Edition who have Journey Builder. For customers who have purchased a Corporate or Enterprise Edition prior to 10/27/2017, Einstein Send Time Optimization is available at no additional charge upon execution of an Order Form with Additional Terms. Contact your account representative for details.
Send Time Optimization Summary Dashboard
The Send Time Optimization summary provides great visual insights into how your subscriber base engages with your marketing during certain hours of the day and days of the week.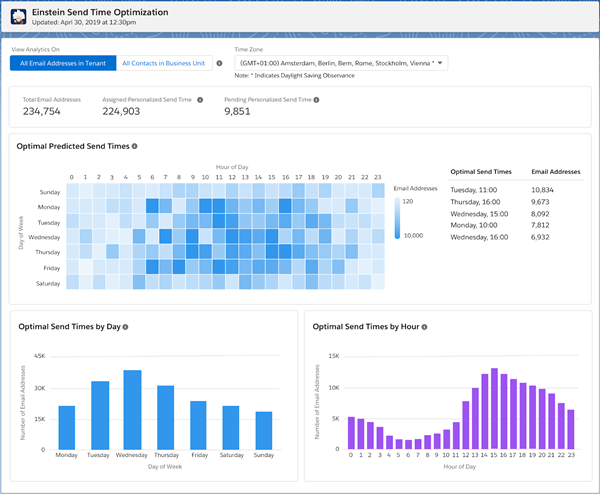 Note: Results will come after 72 hours after activation to complete the data transfer and analysis required to optimize sends through Journey Builder.
Send Time Optimization in Journey builder
Select a journey and segment off of a small percentage (10%) – Campaign holdout of the traffic using a random split. Then drop in the Send Time Optimization tile only on that small branch. See the screenshot below:
Ref: https://help.salesforce.com/s/articleView?id=sf.mc_anb_einstein_sto_app.htm&type=5